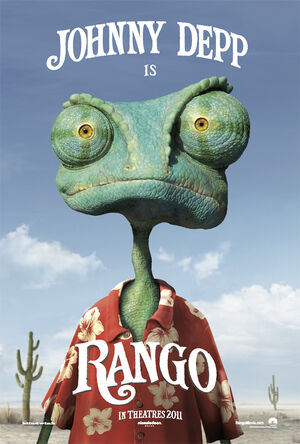 Welcome to the UK Wikia for Rango!
About the Movie
Edit
A chameleon (Rango) that aspires to be a swashbuckling hero finds himself in a Western town plagued by bandits and is forced to literally play the role in order to protect it.Johnny Depp stars as the courageous chameleon and is supported by an impressive cast featuring the likes of Isla Fisher, Alfred Molina, Ray Winstone and Bill Nighy. The film is at cinemas from March 4th 2011.
Check out the charcters that populate the town of Dirt here.
Check out the official UK facebook page for Rango here.
Check out the official website where you can explore the town of Dirt here